Earthquake
INTRODUCTION
The Catalytics Earthquake Modelling Software was created under the supervision of Professor Andrzej Kijko. The model is completely open and flexible, allowing users to choose their own maps, regions, levels of completion, statistical calibration of areas, synthetic catalogue, attenuation, damage curves, demand inflation and scenarios.
COUNTRY SPECIFIC LICENCES
Currently Catalytics has available licences for Indonesia, Philippines, Singapore, Malaysia, Brunei, Thailand, and Vietnam.
Our models are actively used by the more enlightened and leading domestic reinsurers and insurers to assess their own aggregates and exposures as well as to set budgets, pricing, and event limits. They conduct their own analytical studies in-house. The output is used for board and reinsurer presentations and Dynamic Financial Analysis, internal, external, per risk and per contract, as well as to check other vendor models and broker submissions.
LICENCES ARE AVAILABLE BY COUNTRY OR SETS OF COUNTRIES OR BY REGIONAL SUITE.
YOUR ENQUIRIES ARE WELCOME FOR DEMOS OR QUOTATIONS FOR OUTSOURCED PRIVATE MODELLING, AS INDIVIDUAL RISKS (GEOCODED), OR PORTFOLIO PROJECTS (CRESTA, POST CODE OR AREA SPECIFIC).
FEATURES AND SCREENSHOTS
The earthquake model has a built in mapping system:

Setting historical catalogue completeness: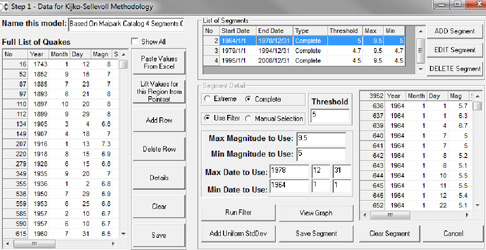 Data visualization – 3D mapping:

Academic Papers